WIS International Re-Enters Mexico by Exclusively Partnering With AccuratS Professional Services to Strengthen Global Inventory Solutions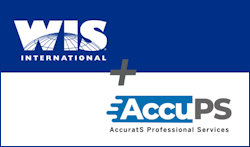 This new strategic alliance allows both companies to enhance inventory services, data collection, and customer service in Mexico and throughout Latin America.
DALLAS, August 21, 2023 (Newswire.com) – WIS International, the world leader in inventory solutions, announced an exclusive, strategic partnership with AccuratS Professional Services in a move to strengthen global solutions and expand their services. AccuratS specializes in inventory control, merchandising, and consulting in Mexico.
This new expansion positions WIS International to continue taking its industry-leading technology and global expertise to deliver inventory services to companies in Latin America. This pairs AccuratS' local market expertise and unparalleled customer service in Latin America with WIS International's innovative technology, strategic insights, and real-time reporting. Currently, WIS International is the world's largest and most experienced inventory services provider with a solid presence in the United States and Canada. WIS International's proven track record includes helping businesses reduce costs, increase profits, and more accurately control inventory.
"We have made a strong, initial step toward expanding our global presence, and this partnership is evidence of that commitment. WIS is on a positive trajectory to expand global reach in the inventory services industry, and we are confident we will succeed in achieving that status through strategic partnerships like this one with AccuratS," said Jim Rose, CEO of WIS International.
Rafael Ybarra, General Manager of AccuratS, explained, "This partnership allows us to harness local expertise and fully bring the power of WIS International's innovative technology and capabilities to this market. We are excited about what we can do in Mexico and Latin America moving forward."
WIS International has provided its customers with inventory control and physical counting services for more than 70 years and is well known for its advanced proprietary technology and impressive staffing capabilities. By having an expanded international presence, WIS is able to further support its domestic customers that have a presence outside the United States and Canada. This partnership exemplifies WIS International's commitment to growth through innovative technology and global expansion.
**
Headquartered in Dallas, Texas, WIS International has made its mark globally creating and implementing strategic sales, marketing, and retail solutions. Offering the most in-demand retail and marketing services for corporations and enterprises, WIS International is well known for driving success through its diversified, end-to-end approach and ability to work within a wide variety of business verticals and markets.
Using proprietary technology, innovative strategies, and customer-focused business practices, WIS International offers retail and manufacturers the tools for success through its four connected brands: WIS Inventory Solutions, CROSSMARK, Product Connections, and Dealer Solutions. These services are provided by more than 50,000 employees across 250 offices to more than 5,000 businesses throughout the U.S. and Canada, making WIS International a robust corporation that businesses can count on. Learn more at www.wisintl.com.
Newswire Press Release